A few months ago unbaptism was in the news.  At the time it struck me as odd. 
As usual a number of atheists voiced some of my bewilderment.  Surely to demand your baptism is undone is to attribute to baptism the very efficacy atheists deny?  If it is meaningless, to have it undone implies it has a meaning.  Why not just ignore it? 
One reply was that the aim of this particular demand was to undermine the Church of England.  The Church of England would no longer be able to claim them as members.  There may well be other arguments for unbaptism and I'll willingly have a go at them, if someone tells me what they are.
The main problem is that the Church of England does not have members.  It is organised into parishes and anyone living in a parish has a right to participate in the services of their parish church or churches.  If they wish to ignore them, they are free to do so.  It is not just atheists who ignore the services, Christians of other traditions, some of whom might have been baptised in the Church of England, will rarely take part if ever.
Those who wish to support the Church of England opt in through the electoral roll.  These people might never have been baptised (in which case they are able to ask to be baptised), they might have been baptised by the Church of England or by another tradition.
So, to be unbaptised makes no difference whatsoever to the Church of England in terms of its legitimacy as the established church in England.  If you're an atheist the only thing you can do is to opt in.  (After this you could opt out again but it seems fairly pointless to me.)
One other point.  Is it actually possible to renounce baptism?  The question I would ask is this.  Rebaptism is forbidden in the majority of churches.  If an atheist who renounces baptism, takes their unbaptism certificate to a minister of most traditions, would they be able to rebaptise them?  I suspect not.  So, a hypothetical person baptised as a baby, grows up atheist and renounces their baptism, then changes their mind and becomes a Christian.  Do they need to be rebaptised?  I suspect not because the churches would see this as a rebaptism and not as a first baptism.  I'm sure someone will tell me if I've got this wrong.
Unbaptism looks to me like a campaigning tool but I'm not sure it has been thought through.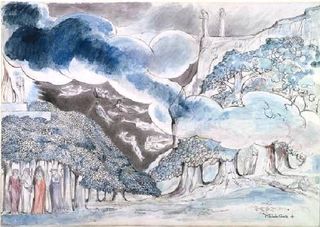 The way I see it is baptism is a covenant initiated by God.  From this perspective, even if you are an unbeliever, it is hard to see how you can renounce your baptism.  Atheism doesn't need this type of gimmick; it is what it is.  In my view atheists are particularly loved by God, because they reject the idolatrous images of God so many religious people take for granted.  Many are therefore closer to God than Christians who separate themselves from the pain of being human, through their illusions about God.  So, there is probably a very comfortable corner of heaven set aside for atheists (unbaptised or not).  (The picture is of Homer and the Ancient Poets in Dante's first circle of Hell by William Blake.)