Today is the Blog Action Day and the theme this year is World Food Day. 
It was also Apple Day in Burngreave Cemetery.  And so that is my food theme: apples. 
Let me start with Burngreave Cemetery.  It is a fantastic open space in Burngreave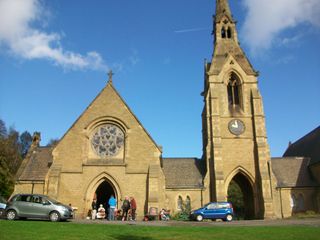 (which is the name of the ward, it's really Pitsmoor) in Sheffield, England.  It has an interesting history and its friends meet most Sundays in the chapel (right), which they are turning into a museum about the cemetery and the surrounding area.
This Sunday was their third apple day.  It's never been a big event.  It is an opportunity for people to bring their apples to swop for other's apples.  And there is a small display of local apples.  By local I mean grown in Sheffield.  I copied the list of apple varieties present and here it is:
In the photo, starting on the left of the back row: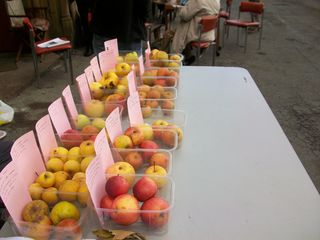 Ribston Pippin
Pitmaston Pineapple
Wyken Pippin
Cider Apples (Kingston Black and Dabinet)
Golden Spire 1850
Lane's Prince Albert
Golden Noble
Newton Wonder
Cockpit
Peasgood Nonesuch
Keswick Codlin
On the front row there's a quince and a medlar and then left to right: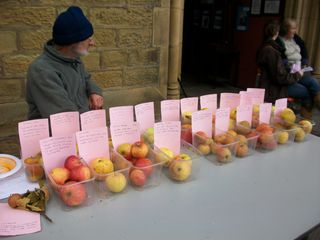 Worcester Pearmain 1873
Epicure
Ellison's Orange 1911
Beeley Pippin
Margil
Orlean's Reinette 1773
Ashmead's Kemel
I've deliberately listed these at the risk of being dull because there is a point to be made.  How many of you heard of?  You will know the names of Cox's Orange Pippin, Braeburn, Spartan, Russet (perhaps) and of course the all too dreadful Golden Delicious (frequently neither), Granny Smiths and of course the Pink Lady that inevitably tastes of sweetened polystyrene.
Most of these varieties are not British apples and have been developed because they provide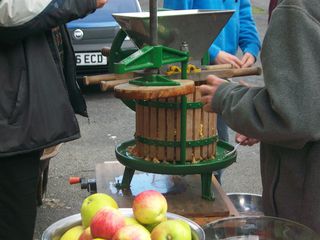 a consistent product for the benefit of the supermarkets.  The supermarkets are the reason so many orchards are closing and rare varieties being lost.  Today it's the odd tree in a garden or allotment that preserves these varieties.
This year I am told has been good for apples.  (So, good they could afford to squash them, right.)  I've been given more than usual and even those with all too familiar names have more flavour than anything I normally eat from supermarkets.
Pitsmoor is notable for its specialist shops, particularly grocers selling foods from all over the world.  On the last day of this month, one of the largest branches of Tesco in Europe is to open on our doorstep.  We're hoping the little shops, with the genuine choice they offer, will not be forced to close through competition. 
If we're not careful we'll lose more than our apples.