It's not even Advent and they're already playing carols in the shops.  (Advent may I remind you is the name given to the fast before Christmas.  It starts next Sunday and between then and Christmas we're not supposed to go to parties.)  Usually, the carols start in the shops during Advent; Advent hymns (there are many and much better than most carols) are generally unknown to the public, intent upon a month of feasting (followed by 12 days of more feasting) (followed by fasting in January - sometimes ...).
Last year I wrote during Advent about the idolatry at the heart of Christmas imagery and this link will take you to the first of these posts.  However, the explanation for this year's early start may be quite different ...
First, however, some pictures (all taken this afternoon) from Sheffield Peace Gardens (there's also a stage on Barkers Pool and a Grotto (for our national god) at the top of Fargate.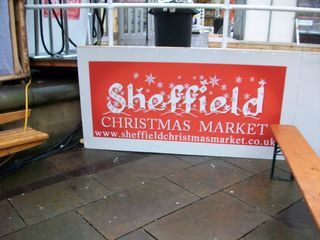 and some skaters with penguins ...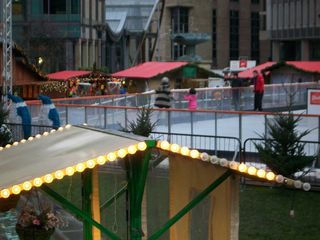 ... and the shops, which opened this last weekend ...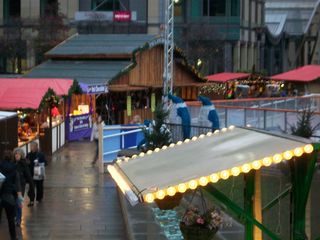 ... and also on Tudor Square ...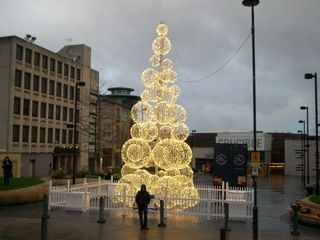 So, why do we have to put up with all this?  In this week's 'New Statesman', David Blanchflower quotes (on page 19) from Julia Evans of the National Federation of Builders:
Despite official figures showing an impressive industry growth, the industry's own figures point to a fall in output, falling prices and fewer enquiries.  This all points to a depressing Christmas for the industry.
It is no coincidence that we turn to our national religion with renewed vigour, during an economic crisis.  We're going to have weeks of this because they're all afraid their profits are going to be depressing this year.  They know the cuts to services mean there's less money in the economy, even if the government doesn't.